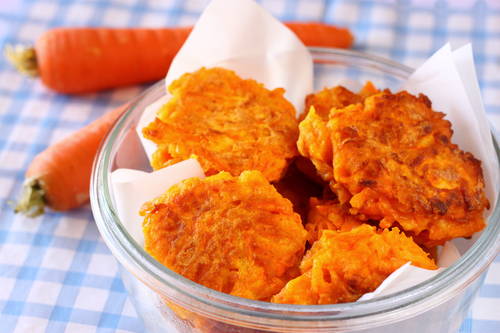 Yields: 4 servings
Prep Time: 0 hours 15 minutes | Cook Time: 0 hours 20 minutes
A healthy take on a classic comfort dish
these yummy fritters are really tasty, full of our orange pointy friends and will go down very well with the family.
2 Large Eggs
Kosher Salt and Pepper
2 Large Carrots
1 Large Parsnip
1/4 C of gluten free or wholegrain breadcrumbs
2 Scallions thinly sliced
1 C. fresh corriander
Green salad to serve
yoghurt with lime juice to serve
In a Large bowl whisk together the eggs and 1/2 teaspoon of both salt and pepper
Coarsley grate the carrots and parsnip by either using a food processor or with a hand grater.
Add them to the bowl with the eggs and toss to coat. Then add the breadcrumbs and corriander
Use a large cast iron skillet over medium heat and add 1 tablespoon of olive oil. Drop 6 spoonfuls of the carrot mixture into the pan and cook until golden brown. turnover to cook both sides for around 3 minutes
transfer to a wire rack and cook remaining carrot batter.
Serve with a green salad , yoghurt and lime juice dressing.