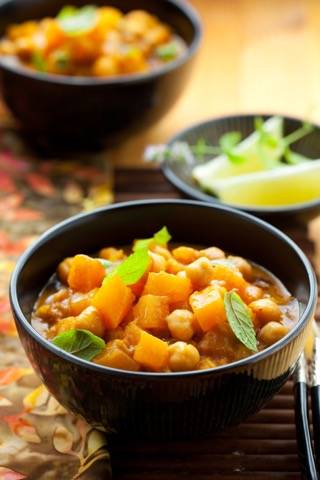 Yields: 4-6 servings
Prep Time: 0 hours 15 minutes | Cook Time: 5 - 6 hours 0 minutes
I love that you can put this stew in the slow cooker when you head out the door to work (and school or daycare drop off, and those millions of errands you have to run...the list goes on...)
Of course you can pop it in the oven or a big pot and cook over a 45 min timeframe too if you get home at a reasonable hour and are happy to just chill whilst dinner gets yummy.
This is a nice hearty stew, great for leftovers the next day.
440ml coconut cream
3 cup vegetable stock – low sodium
1 tbsp. curry powder (optional but highly recommended)
1 tbsp. turmeric
1/2 tsp. cumin
3 tbsp. grated fresh ginger
kosher salt
1 1/2 c. yellow split peas or garbanzo beans, rinsed
425g can diced tomatoes
900g butternut squash, peeled and cut into ½-inch pieces (about 4 cups)
1 medium onion, chopped
1/4 c. olive oil
2 tbsp. lemon juice plus 1 teaspoon zest (from 1 lemon)
2 large spring onions, thinly sliced

In bowl of a 6-quart slow cooker,whisk together coconut milk, vegetable stock, curry powder, turmeric, cumin, 1 tablespoon grated ginger, and 1 teaspoon salt.
Add split peas, whole can of tomatoes, butternut squash, and onion and mix to combine.
Cook, covered, until most of the liquid has been absorbed and lentils are tender, 6 to 7 hours on low or 4½to 5 hours on high.
Make lemon-spring onion dressing: In a small bowl, whisk together olive oil, lemon juice and zest, spring onions, remaining 2 tablespoon grated ginger, and ¼ teaspoon salt.